The company was founded in 1994
Total number of employees: more than 100 people Representative offices in Russia: Saint-Petersburg, Moscow, Yekaterinburg, Novosibirsk,

Almaty (Kazakhstan)

Certified service centre for the Moxa, IEI, ICP DAS, Raritan products
Front Man industrial computer production
Training centre for the Moxa products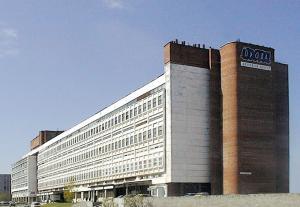 Nienschanz-Automatica Company has been working since 1994. Nienschanz-Automatica Company is the leading Russian supplier of hardware facilities for industrial automation. Company product line includes industrial computers and components, communication equipment, distributed data acquisition, processing and maintenance systems and the wide range of the other components for automated process control systems. Thus supplied equipment line comprises all the automation levels: upper, lower, communication level.
Nienschanz-Automatica product line meets the strictest requirements for the reliability of equipment used in the industrial automation systems. All equipment is designed for severe operating conditions, has protective construction including moisture, vibration and shock protection and also works at extended temperature.
Key industries of Nienschanz-Automatica equipment application are industrial automation systems, automated control systems for electricity generation facilities, oil and gas sector, vending systems and etc.
Supplier choice criteria
Nienschanz-Automatica key criterion for choosing the manufacturing company is the product quality. Every Nienschanz-Automatica partner has ISO 9001 certificate and uses product testing advanced technologies.
One of the main parameters is also based on the open standards. IBM PC compatible architecture of the majority of suggested solutions provides simplicity of equipment integration into deployable automation systems. Besides, this equipment is typically characterized with good value for money which allows us to offer our Customers devices of extended functionality at favorable prices.
Nienschanz-Automatica Company cooperation with the key partners is based on the official distribution agreements. Direct interaction with the manufacturing company allows us to provide our Customers with reliable delivery system within the shortest time period.
Partners
Nienschanz-Automatica cooperates closely with the world market leaders on the production of industrial equipment for automation. Nienschanz-Automatica is a strategical partner of MOXA Inc. in Russian Federation and provides delivery, technical support and warranty service for all MOXA products. Also the company is the general partner of the IEI Integration Corp. – the leading producer of industrial computers and components. Nienschanz-Automatica is the official Raritan Company representative on the territory of the Russian Federation. Raritan Company area is production of the server remote control systems and other IT-equipment. Nienschanz-Automatica also cooperates with such producers as Panasonic (ToughBook industrial laptops), Indukey (protected tamper resistant keyboards), ICP DAS (industrial automation systems). Developed supply chain, permanent control of the automation market development tendencies allows Nienschanz-Automatica Company to offer its Customers the newest and mostly requested solutions.
Our customers
Nienschanz-Automatica Company works with the following organisations:
RAO UES (Unified Energy System of Russia), Siloviye Mashiny (Power Machines) Holding Company, Lenenergo Company, Rakurs Research and Production Company, Tatenegro Company, Sayano–Shushenskaya Dam, Energotekhnika (Power Technology) Research and Production Company, Krasnoyarskenergo Company, Energobalans (Power Balance) JSC, Lukoil JSC, Gazprom JSC, Rosneft Oil Company, Transneft Oil Company, Aurora Research and Production Association, Impulse Research and Production Association, Radar-MMS Company, Krylov State Research Centre, Vympel Design Bureau, Vega Radio Engineering Concern, Orion Special Design Bureau, Special Technological Centre (STC), Meridian Research and Production Company, Atoll Research Institute, State Obukhovskiy Plant, Okean-Pribor Concern, Mayak Production Association, Kulon Research Institute, All-Russian Radio Equipment Research Institute (VNIIRA), Rumyantsev Machine-Building Production Association, Akvamarin CJSC, Kometa Central Research Institute and etc.
Total number of Nienschanz-Automatica Company clients is about 5000 companies.
Training activity
Nienschanz-Automatica Company regularly organises trainings and seminars on the products of the main manufacturers it represents. Training allows Customer's experts to master new equipment very quickly so the amount of time for new system development and implementation can be reduced significantly.
MTSC-Russia technical training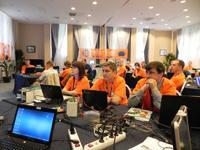 Annually Nienschanz-Automatica Company together with the MOXA Inc., leading producer of communication equipment, organises MTSC-Russia (МОХА Technical Support Certification) specialised technical training. Experts from different companies with MOXA equipment work experience are invited to participate in the training. Training is held by Nienschanz-Automatica and MOXA Inc. technical experts.
This is the certification course which implies testing on the results of which MTSC certificate is granted.
Training takes 2,5 days from 10 am till 6 pm, which is 23 academic hours. They include:
theory - 11 academic hours
practice - 8 academic hours
testing - 4 academic hours
The main peculiarity of the MTSC-Russia training is the intercommunication of the technical experts in an informal setting and the opportunity to discuss any question or issue connected with equipment usage with Nienschanz-Automatica Company experts as well as with MOXA Company representatives. Training is held in a friendly atmosphere within the groups of 6 people and practical classes are interchanged with lectures.
Training main goal is to acquire practical knowledge and skills of working with MOXA communication equipment, its adjustment and diagnostics.
Training practical value is in acquiring real knowledge which helps technical experts to reduce significantly the amount of time for new communication subsystem development and implementation. Training also provides better understanding of generic solution opportunities suggested by MOXA. Training program mastering allows to work on practical skills necessary for working with MOXA equipment.
For further information about participation conditions visit our web-site www.mtsc.moxa.ru.
If you have any questions about participation in training please contact Nienschanz-Automatica Company:
(812) 326-59-24, (812) 326-20-02, (495) 980-64-06.
Duty Holder: Oleg Tolstov.
MTSC-Russia presentation video watch >>
MOXA Solution Day
MOXA Solution Day seminars have been held in European, Asian and Middle East countries for 6 years. Seminars are developed for design company experts, system integrators and engineers of the companies designing communication infrastructure for failure-intolerant systems.
MOXA Solution Day is a topical seminar which gives an opportunity to review recent trends and achievements in the sphere of industrial communication network design; find out about new projects and main products providing reliable and cost-effective solution design being implemented across the world in the sphere of communication and control.
MOXA Solution Day in Russia
In Russia MOXA Solution Day seminars have been already organised and held by Nienschanz-Automatica Company experts for 5 years.
The main topics are trends and technologies of power producing, oil and gas and transport industry facility automation. Review of the MOXA equipment recommended and certified for application in the important industries is traditionally carried out during the seminars. Technical peculiarities and advantages allowing to apply MOXA equipment successfully in automation, monitoring and other systems are discussed as well.
Besides theory, seminars often include live equipment and software work demonstration. All participants get up-to-date information materials.
MOXA Solution Day is a real opportunity of acquiring up-to-date information and idea and experience exchange among the experts.
Industrial computer assembly
FRONT MAN brand
Industrial computer production under the own FRONT MAN trademark is the result of Nienschanz-Automatica many years' generalized experience in the sphere of component sale and industrial computer equipment configuration and assembly. FRONT MAN industrial computers are produced on the basis of the best product examples of IEI Technology Corp. and Advantech companies.
Guaranteed reliability
FRONT MAN industrial computer assembly is held according to the technical specifications developed by Nienschanz-Automatica to provide equipment work at the industrial facilities where dust, dapm, high/low temperature, vibration or shock protection is necessary. FRONT MAN computers are unique because their capability can compete with modern highly-efficient PC. All these peculiarities allow to apply FRONT MAN computers in such branches as machine-building, metallurgy, power production and oil and gas complexes, as well as in the navy ships and military industrial complex facilities. Every FRONT MAN computer comes with the producer's extend warranty maintenance for at least 2 years and is subject to obligatory many-hours-long test before delivery to the Customer.
Warehouse service
Nienschanz-Automatica Company has product warehouses in Moscow, Saint-Petersburg, Novosibirsk and Yekaterinburg. Nowadays we have the biggest MOXA Inc. product warehouse among its world distributors. There are always the best-selling equipment models at the warehouses which allows us to process orders very quickly and provide equipment for testing. Besides, our company provides a wide range of warehouse services, such as equipment booking, warehouse usage for the projects, scheduled purchasing system for original equipment manufacturers (OEM), etc.